The best thing about Fall is definitely Halloween. Spooky season is basically a way of life, and how better to celebrate than to settle in for a good old-fashioned Halloween movie marathon?
What makes a Halloween Movie?
Before I crack into my list, I want to establish what I consider a Halloween Movie. Most people probably think any horror movie is appropriate for spooky season, but I disagree. Some movies just fit better than others, even if they aren't outright centered on the holiday.
I split the list into two main types, which tick off one or more of the following qualifications. If you don't like horror, you can still find some fun recommendations on the fun list. If you're a die-hard gore fan, though, settle in for the freaky stuff.
Supernatural
If it's got ghosts, ghouls, or demons, then it's a perfect movie for spooky season. Witches and magic are good too. The holiday is all about things that go bump in the night after all.
Psychological Thrillers
The psychological aspect is more my preference than anything else. My favorite horror movies are the ones that make you question reality and keep you on the edge of your seat—getting your adrenaline and blood pumping in a way plain jane horror movies just can't.
If it's got a psychological aspect, it's more icing on the cake than a necessity.
Costumes
You can't get more into the spirit than a horror movie with costumes. A mysterious killer hiding their face behind a mask is the stuff spooky movies are made of, after all. Killer clowns, creepy mascots, psychos in animal masks are perfect choices to get in the spooky mood.
Fun
The biggest factor in deciding which of these movies are "fun" is whether or not they take themselves seriously. Are there scary scenes truly trying to scare the audience, or is it just scary because I get startled easily? Anything aimed at younger audiences or poking fun at the horror genre will typically focus more on the story rather than trying to scare your pants off.
So, if you're looking for something that won't stress you out, check out these fun movies!
I debated for a bit where to put Scream on this list. If you haven't seen Scream before, I highly recommend it. Even if you don't like horror movies, you may like this one. I promise it's not that scary, and it's actually meant to be a commentary on slasher movies as a genre.
Scream takes place in the late '90s and follows the killing spree of the Ghostface Killer (though they are never actually called Ghostface in the film). Ghostface targets mostly high school students in a small town and enjoys tormenting them before finishing them off.
At no point does the movie try to take itself seriously and even makes fun of a lot of horror/ slasher movie tropes.
Addams Family (1991)- (PG-13) Pluto TV
No one does fun and quirky better than the Addams Family. Somehow, they make goth chic and really make the dark and dank seem like fun. Their theme song pretty much says it all "they're creepy and they're kooky, mysterious and spooky, they're all together ooky, the Addams Family."
There are a lot of iterations of the Addams family, from comics to movies, a tv show, even animations, and YouTube shorts. I think we can all agree that the 1991 Addams Family is the best, though. The actors nailed the functionally dysfunctional family dynamic in a way I haven't seen anyone else come close to.
If you haven't seen The Addams Family, please stream or rent it asap. There's no blood or gore, and it's not a horror movie. It focuses on lost and found family rather than violence or being scary. Not the usual themes for all hallows eve, but somehow, they make it work.
Shaun of the Dead- (R) Rent only
You can't make a Halloween movie list without at least one zombie movie. You just can't. Shaun of the Dead is a parody of your typical zombie movie, making it less than typical. It's just about two guys trying to survive the zombie apocalypse and get their lives together.
It may not sound like a very upbeat movie from my description, but the main characters manage to make it hilarious and worth the watch. As it goes with most R-rated parodies, there's a lot of gore in Shaun of the Dead, so be warned.
Freaky-(R) Hulu
Freaky is probably the newest movie on the entire list. It's basically what Freaky Friday would be if it were a horror movie. Rather than a mother-daughter duo swapping bodies, Freaky asks the question of what would happen if a teenage girl swapped bodies with an outcast serial killer.
It's uncanny how well Vince Vaughn emulates a teenage girl or how Kathryn Newton can project the image of an intimidating middle-aged man. Their acting abilities are just so good for the movie and actually kind of make you care about the story, which makes it more than just another slasher flick. 
Corpse Bride-(PG) Hulu
If the word spooky took on human form, I have to assume that human form would be director of Corpse Bride, Tim Burton. Burton's claymation style is unnerving and uncanny, but it does make for some great storytelling.
For those unfamiliar with Corpse Bride, it's a movie about a man in an arranged marriage. He falls in love with his bride-to-be but accidentally ends up proposing to a dead woman while practicing his vows. His new corpse bride whisks him off to the land of the dead, where he struggles to figure out how he can return to his living fiancée.
Any of Burton's Claymation movies are sure to be a Halloween hit, so if you're not feeling Corpse Bride, you can also check out Nightmare Before Christmas or Frankenweenie.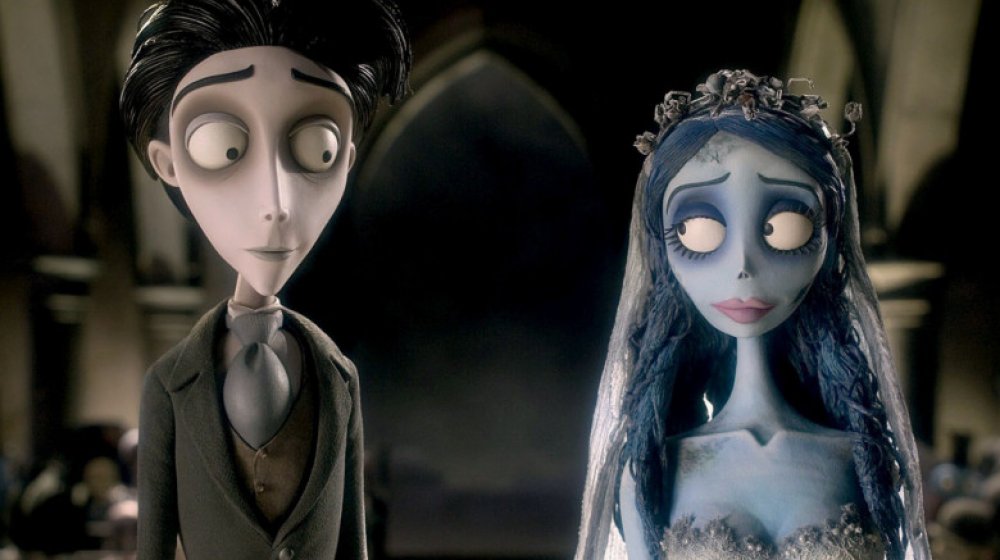 Freaky
Now let's get into the freaky stuff. This is where it gets scary and gory.
Trick 'r Treat is a thrilling anthology with stories all centered around one supernatural Halloween night in a small town. The movie shows us 6 interconnected stories with lots of death, ghosts, demons, and more.
 Out of all the movies on this list Trick 'r Treat is my favorite. It's not too scary, but it's all about respecting the spirit of the holiday and karma being served to the wicked who deserve it. At the end of the night, nothing is sweeter than comeuppance. 
A Nightmare on Elm Street-(R) HBO Max
A classic horror movie, if there ever was one. Freddy Kreuger is what nightmares are made of, and his debut movie, A Nightmare on Elm Street, is one of the most influential movies in the horror genre.
The gist of it, if you've never seen the film, is a disfigured man seeking vengeance as a ghost by killing teenagers in their sleep. The main character, Nancy, is pretty much the only one who manages to figure out how to fight against the crazed killer while her friends are picked off one by one.
A Nightmare on Elm Street is perfect for any spooky party or a night in celebrating by yourself with a bowl full of candy.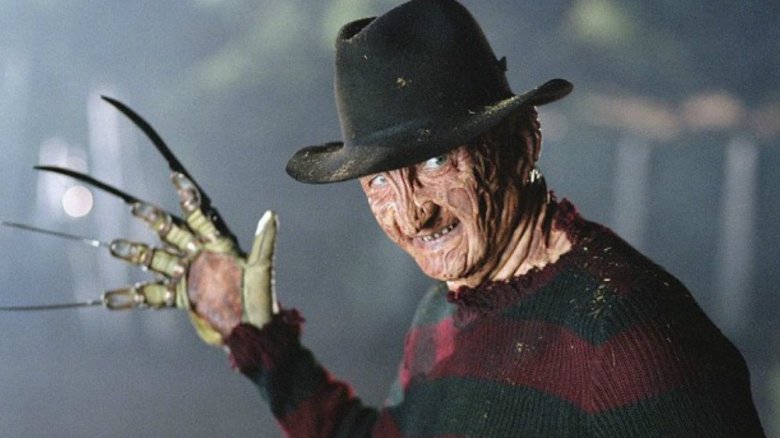 Cabin in the Woods-(R) Peacock
Any film that analyzes its genre's tropes is instantly 100x more interesting to me. Cabin in the Woods is one of those movies. It looks at the archetypes of horror movies and manages to make a story about them.
In the film, a secret organization pulls the strings and manipulates people into ritualistic sacrifices, which keep an ancient evil at bay. They force people into fitting the roles of "The Virgin", "The Athlete", "The Whore", "The Fool", and "The Scholar," then kill them off using monsters in a specific order.
Those roles are also classic archetypes in other horror movies, so it's interesting to see a movie so self-aware of the tropes.
The ritual created by the organization becomes a twisted "create your own adventure" where the creature coming to kill the group is based on their own choices and decisions. It's a very, very good movie and I cannot recommend it enough.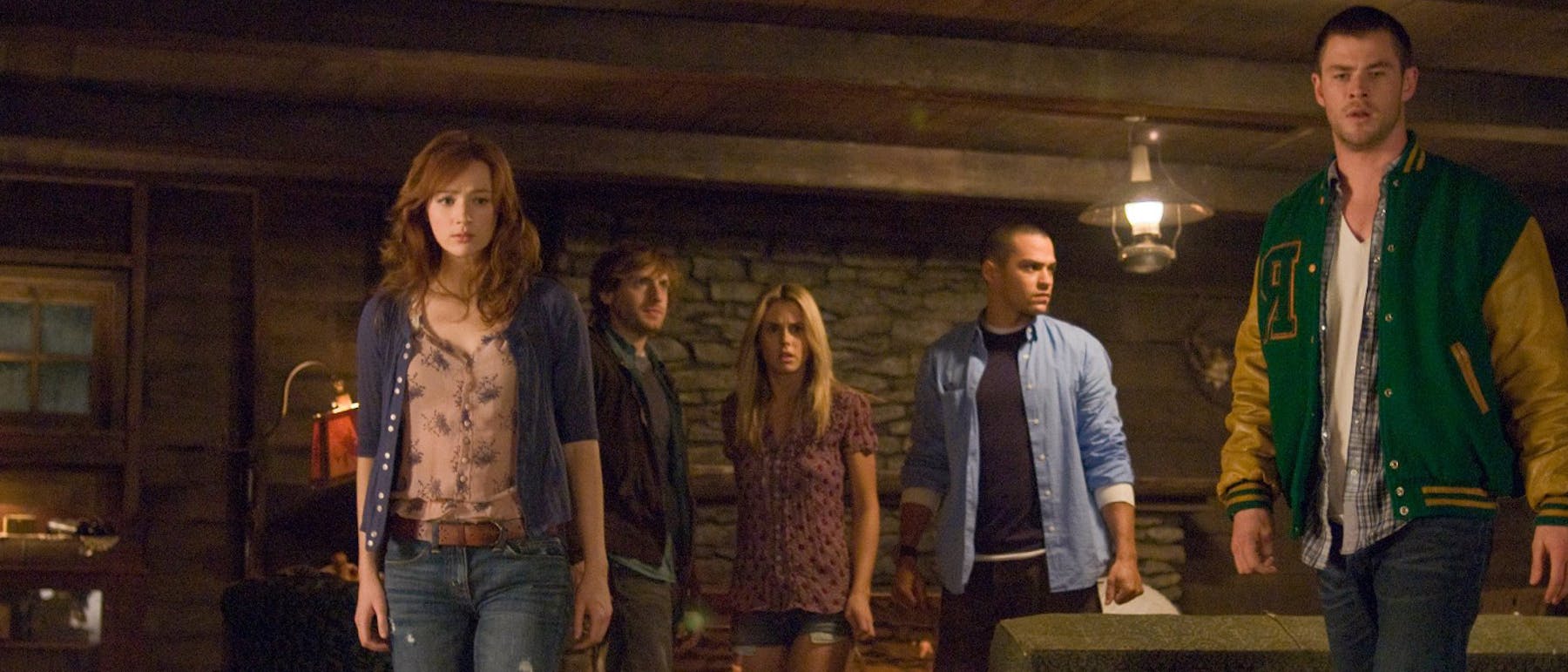 The Babadook is an Australian psychological horror movie about a widowed mother struggling to take care of her son on her own. One night her son becomes convinced that an imaginary monster from a picture book is out to get them.
Soon strange things start happening around both mother and son. Surreal visions, disturbing phone calls, creepy books that can't be destroyed… Without going into too much detail, I will say that the Babadook may not be everyone's cup of tea, but I love it.
It's more than just a supernatural horror movie. It's about overcoming your demons—both those inside and outside of your mind.
At this point, I think everyone pretty much knows the plot of It. Stephen King is a very well-known author, and the movie based on his work came out just a few years ago. Just in case you were living under a rock, It follows the story of a band of misfits who call themselves "The Losers Club" as they solve the mysterious and deadly disaster which plagues their town every 27 years.
From that description, you may be asking yourself how It is a Halloween movie. Well, that's simple, my dear Watson, the title character It (also called Pennywise) is a killer clown.
There's a lot going on in It as we learn about each member of The Losers Club and the strange goings-on in the town. There sadly isn't as much screen time for Pennywise as I would like, but that does leave plenty of time for a great story and a very enjoyable movie.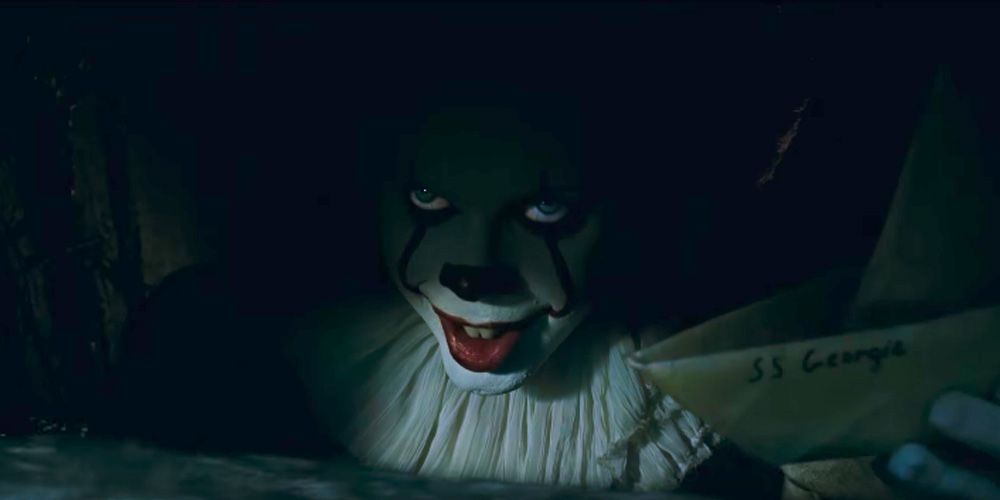 Honorable Mention
Haunting of Hill House (not a movie, sue me)- (TV-MA) Netflix
Re-watching the Haunting of Hill House has become a tradition for me. Every Halloween, I eagerly load up Netflix and settle in for a long night with eagle eyes to spy on new details that I missed last year.
Hill House (as I usually shorten it to) has it all. It has ghosts, the perfect tone, amazing writing, dynamic characters, and a super interesting story. It's just so perfect. It may not be a movie, but that's just a technicality. As far as I'm concerned, there's no better way to spend all hallows eve.
If none of these movies were quite your speed, check out our list of the Top 10 Alien movies!
What's your favorite Halloween movie?